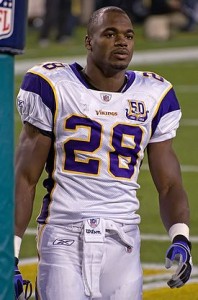 During the November 7, Thursday Night Football game between the Redskins and the Vikings the announcers casually mentioned they had spoken with Adrian Peterson before the game and he told them he was ready to play because of the Rolfing® SI he received from Wayne and Sandy Henningsgaard.
Turns out the Henningsgaards have been working with Adrian Peterson for years. For those of you not tuned into the National Football scene Peterson is a running back for the Minnesota Vikings (#28). He received the NFL MVP Award and the AP NFL Offensive Player of the Year Award for the 2012 NFL season. Peterson also achieved the #1 spot on the NFL Network's Top 100 Players of 2013. He is the only running back to come back and last a season after tearing both anterior cruciate and medial collateral ligaments in 2011. He went on to amass 2,314 all-purpose yards from scrimmage in 2012, tying Marcus Allen for the eighth-highest total ever.

Here is the actual commentary from the game.
Alex Flanagan: Hey guys, so much talk about Adrian Peterson of course coming off the big year last year and coming off the knee injury. He really hasn't been feeling himself he told us coming into tonight's game until really this week. A lot of people not aware that he's been struggling with a hamstring injury. He told me yesterday that he has been as tight as he has ever been in the hamstring so far in his career, really. [He has] turned to Rolfing, which he did a 3.5 hour session this week. And guys it certainly solved the problem. You can see it tonight.
Brad Nessler: Painful! I said, "How many times did you say 'Ouch!' over the 3.5 hours?" He said, "Never. But I did grimace a few times." And he's close to another first down.
Mike Mayock: Now Washington is saying 'Ouch' right now.
The Henningsgaards have a long history of working with Vikings players over the last decade with such notables as Lance Johnstone, Qadry Ismail, Randy Moss, and Michael Bennett. Here is a nice video from Vikings Game Day about how the Minnesota Vikings use Rolfing® SI to help them get ready for the game and recover from injury.