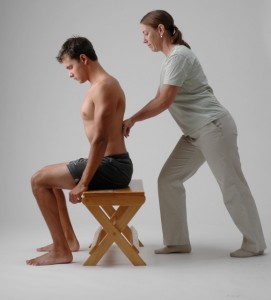 Do you suffer from back, knee or neck pain? Carpal tunnel syndrome? Interested in having better posture? Or, do you just want to feel more at home and graceful in your body?
If so, GOOD NEWS!
Rolfing® SI National Awareness Week is coming up May 14-22, 2011. Join me on Monday, May 16,  as we celebrate the 40th anniversary of The Rolf Institute® of Structural Integration and our 2nd Annual Rolfing® SI National Awareness Week. If you've ever had the notion to try this transformative form of bodywork now is the time to check it out.
On May 16 I'm offering complimentary, 30 minute, Rolfing SI mini-sessions that include a consultation, structural evaluation and some hands-on work. This is a fabulous opportunity to try Rolfing SI for the first time and get all your questions answered.
Call my San Francisco office at 415-547-0710 to schedule your session or go to my website www.RedwoodEmpireRolfing.com for online scheduling. Select my San Francisco office, May 16, and book a free 30-minute consultation. It's that easy! This offer is limited to the first 12 people who sign up.
There is one major reason to take Rolfing SI seriously: it works. Not only can it dramatically change people's bodies, it can transform their lives as well. Rolfing SI is powerful stuff. — Larry Dossey, MD
Benefits of Rolfing SI:
Recover from an accident or injury
Improve posture & balance
Deepen pilates or yoga practices
Re-pattern habitual ways of being & moving
Increase flexibility
Boost physical fitness & athletic performance
Enhance body awareness
The effect Rolfing SI has had on my yoga practice is so remarkable I would make something up just to get on the table. — Sianna Sherman, Internationally Respected Anusara Yoga Teacher
The Rolf Institute® of Structural Integration has created Rolfing SI National Awareness Week to honor the legacy of Dr. Ida P. Rolf, who developed Rolfing SI over fifty years ago. During these nine days, Certified Rolfers™ throughout the United States will hold local events and activities to promote the benefits of Rolfing SI. The Rolf Institute, headquartered in Boulder, Colorado, will host an open house on Tuesday, May 17 at 5:30 p.m. featuring free Rolfing SI demonstrations to the general public along with the opportunity to meet renowned faculty and local Colorado Rolfers. More information about National Awareness Week is available at www.RolfingWeek.RolfingEvents.org.
Rolfing SI is a form of hands-on manipulation and education that systematically reorganizes the connective tissues, called fascia, to release, realign and balance the whole body. It may bring dramatic results, such as recovery from injury; reduction in chronic pain, including headache and back pain; improved ability to move with ease; reduction in physical and mental stress and tension; and increased balance and flexibility. Unique to the process is the incorporation of Rolf Movement® Integration which brings the structural work into activities of daily living allowing for greater ease and freedom throughout the body.
Since its inception in 1971, The Rolf Institute has trained and certified over 1700 Rolfers worldwide. The Rolf Institute, including its international sites, is the only organization that teaches Rolfing SI and graduates Rolfers™. Its rigorous training program is supported by an esteemed international faculty, some who trained directly with Dr. Ida P. Rolf, the school's founder and developer of Rolfing SI.
Help spread the word about Rolfing SI National Awareness Week! Please share this post. You can use the simple Facebook tools on this site.