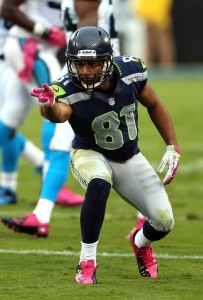 As the Seattle Seahawks head into SuperBowl XLVIII, their breakout Wide Receiver, Golden Tate, riffs on how Rolfing® SI improves his performance and helps him get ready for the game. Watch him scramble on Sunday, February 2, against the Denver Broncos at MetLife Stadium in New Jersey.
"You always have to do something to prepare yourself for the next game. I'm staying on top of it with Rolfing." Golden Tate
Thanks to Russell Stolzoff of RolfingWorks for creating and sharing this video.
KGMI News Talk Radio 790 in Bellingham recently interviewed Russell Stolzoff about his work with the Seattle Seahawks' Golden Tate. Stolzoff explains Rolfing SI in more detail and how he has been working with Golden Tate for the last two seasons.
And finally here is a link to the 
recent article from the Bellingham Herald
about Stolzoff's work not only with Golden Tate, but also other members of the Seattle Seahawks.