Over the past 25 years many professional baseball players have used Rolfing® Structural Integration to help them recover from injuries and stay in the game. Here is a list of half a dozen players who have benefited from receiving Rolfing® SI.
1) Sean Casey, former Major League Baseball first baseman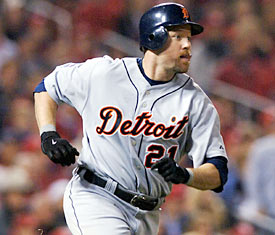 During his career National League All-Star, Sean "The Mayor" Casey, played for the Cleveland Indians, Cincinnati Reds, Pittsburgh Pirates, Detroit Tigers and Boston Red Sox. On April 14th, 2006, while playing for the The Pittsburgh Pirates Casey's spine was fractured when a base runner for The Chicago Cubs collided with him. While in the hospital a martial artist friend suggested Rolfing SI to Casey.
I had never heard about Rolfing so I went to the www.rolf.org website, read about the founder Dr. Ida Rolf, and decided to try Rolfing. My Rolfing sessions started with Certified Rolfer™ Michael Waller on April 27th. The bodywork relieved my muscle pain and spasms immediately. In 4 weeks I  had 8 sessions and I returned to play May 26th, only six weeks from the initial trauma.
Casey was traded to The Detroit Tigers on July 31, 2006. During the 2006 American League Championship Series against the Oakland Athletics he partially tore his left calf muscle in Game 1.
In Oakland I blew out my calf while batting. When I swung it felt like an explosion in my calf. It was going to be tough. The World Series was coming up quick, and I thought I would not be able to play.

The MRI showed that I tore the fascia wrapping my soleus. I did not know what fascia was before I tried Rolfing. When the injury occurred I new to call my Rolfer. The first day I saw Michael I could feel him reset the muscle and put it back in place. I think Rolfing is one of the best things going. No doubt it has helped me so much.
Casey came back from his torn calf in Game 2 of the World Series against the St. Louis Cardinals, becoming the hottest hitter for the Tigers belting 2 home runs and batting .432 in five games.
The World Series was the highlight of my career and without my Rolfer I would not have been able to do what I did. (Doctors projected a three week recovery; Sean was playing again within 10 days.) Rolfing has helped me 100%.
Sean Casey was in the zone. It was pure performance, an excellent example of athletic skill meeting the moment and making the most of it.
2) Bret Saberhagen, former Major League Baseball pitcher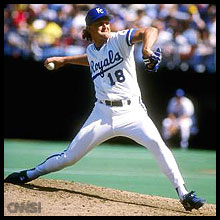 Two time American League Cy Young Award Winner and 1985 World Series champion, Bret "Sabes" Saberhagen, pitched for the Kansas City Royals, New York Mets, Colorado Rockies, and Boston Red Sox before retiring in 2001. He started receiving Rolfing SI in 1986 while playing for the Royals.
In August of 1986 I was having arm and shoulder problems, including tendonitis and some muscle strain. At that point, I was all messed up. You come into Rolfing because you have wear and tear on one part of your body or another, and after a while you have to readjust that particular muscle.

The soreness you have when you receive Rolfing is a good soreness. Everything's getting unjammed, things just seem to get tight and tense, and after the session's over you feel better.
Saberhagen received some more Rolfing SI in 1987 and again in 1990 to help him recover from surgery on his right elbow.
I recovered from the surgery faster than the doctors thought I would. I'm sure the Rolfing helped me out.

Rolfing is good for anybody in any walk of life, because it's going to put you in focus with your body, to realize what kind of beating your body takes from an average day, and not necessarily an athlete's day.
3) Bob Tewksbury, former Major League Baseball pitcher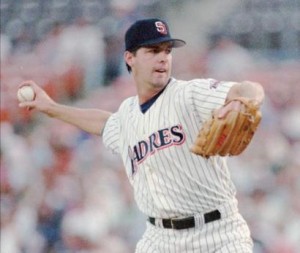 During his career National League All-Star, Bob Tewksbury, played for the New York Yankees, Chicago Cubs, St. Louis Cardinals, Texas Rangers, San Diego Padres, and Minnesota Twins. Due to shoulder and arm problems he would face over the course of his playing career, Tewksbury became known as an excellent control pitcher. In 1997, he threw an Eephus pitch, joining an elite few who have thrown the "junkiest pitch in baseball."
Tewksbury had this to say about Rolfing® SI:
I have received many benefits from Rolfing. In 1991 my massage therapist recommended it as a way to get a deeper level of work. Although the benefits of muscle work come and go depending on when and how regularly I get Rolfing work, I have noticed lasting benefits with regard to my breathing, my posture and my body awareness. I have used Rolfing mainly in two areas, for my lower and upper back to help with flexibility and stiffness, and to enhance performance. I plan to use it again."
4) Tom Seaver, former Major League Baseball pitcher
Three time National League Cy Young Award Winner, 1969 World Series champion, and Member of the National Baseball Hall of Fame, Tom "The Franchise" Seaver, pitched for four different teams during his career, but is known primarily for his time with the New York Mets. Seaver is the Mets' all-time leader in wins, and is considered by many baseball experts to be one of the best starting pitchers in the history of baseball. Seaver found out about Rolfing® SI from another former New York Mets pitcher, Craig Swan. Swan became a Certified Rolfer™ after his retirement from baseball. Here is what Seaver had to say about the Rolfing SI he received from Swan.
Until I went through the Rolfing with Craig, I had chronic lower back, hamstring and calf problems. Besides feeling better after each session, Craig taught me how to use my body in a much more efficient and relaxed way. Little did I know that the way I was unconsciously using my toes was effecting the muscles in the back of my legs reaching all the way to my lower back. Since going through the Rolfing with Craig back in the 90s, I had no problems with my back, calves or hamstrings. I would strongly suggest that anyone with a chronic muscle/skeletal problem try Rolfing, it sure helped me.
Before retiring from baseball Seaver would go on to play for the Cincinnati Reds, Chicago White Sox, and Boston Red Sox. Today Seaver lives with his wife in Calistoga, California (special bonus for us wine country residents) and runs GTS Vineyards & Winery.
5) Craig Swan, former Major League Baseball pitcher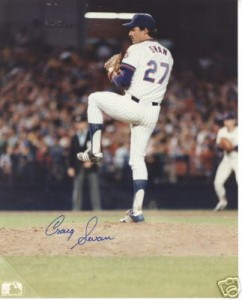 Craig Swan spent most of his baseball career with the New York Mets before a very brief stint with the California Angels. Swan first received Rolfing SI after tearing his right rotator cuff which resulted in him missing most of the 1981 season.
I had a grade two tear, and we were going to treat it with rest and a lot of physical therapy. I had hear about Rolfing from a beach bum friend in St. Petersburg. I was a little skeptical about Rolfing because I didn't know anything about it. But I've always thought it's important to try everything.
Swan went on to receive Rolfing sessions with a Certified Rolfer™ in Florida.
The Rolfer was trying to give me enough length in my joints to create leverage in a pitch. When you can keep the space in your joint, keep the musculature fairly relaxed but still use it, you can then get your shoulder girdle and arm away from your body. This creates velocity on the fast balls, or any kind of throw, because it develops leverage.
The injury that finally ended Swan's career was a tear to the fascia covering his tricep. He decided to use the medical knowledge he obtained from his numerous injuries and trained to become a Certified Rolfer™. Swan graduated from The Rolf Institute® of Structural Integration in Boulder, Colorado and practices Rolfing SI in Connecticut. He finds it ironic that as a Certified Rolfer he now works on the same thing (fascia) that ended his career. Here is Part 1 of a three part interview Swan did with Mets Weekly.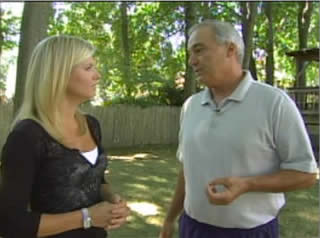 Check out the rest of the interview on Craig Swan's website www.GreenwichRolfing.com.
6) Tim Salmon, former Major League Baseball right fielder
World Series champion, Tim Salmon, of the California/LA Angels of Anaheim wraps up our list of half a dozen professional baseball players who have utilized Rolfing SI to recover from injury and extend their careers. Indeed Salmon received the American League Comeback Player of the Year award in 2002. I was not able to locate any specific quotes from Salmon testifying to his use of Rolfing, but The Rolf Institute® of Structural Integration website lists Salmon as a pro-athlete who has benefited from Rolfing SI.
I hope you have enjoyed this collection of stories I've gathered about professional baseball players who have utilized Rolfing SI. Maybe it will inspire you to give Rolfing a try the next time you have a sports injury or want to enhance your performance in your pro, semi-pro or amateur athletic endeavors.