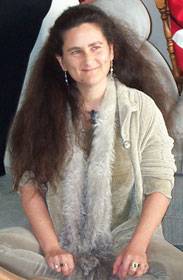 Every once in a great while a practitioner comes along who is so uniquely gifted that one must share with others information about that individual. Such a gifted practitioner is Coquelicot Gilland.
For more than two decades Coquelicot (coke-lee-co) has been actively practicing in the field of spiritually based, body-oriented, developmental counseling and restorative touch work. I met Coquelicot through the Bodynamic Analysis Body-Oriented Psychotherapy training. For those of you interested in reading more about the Bodynamic system I reference it in these posts from my blog:
Conscious Connection, The Ego & Embodied Presence: A Tribute for Elena Avila, Curandera
Freedom from twister cables as I stretch my body and soul
Sullenberger's "Highest Duty" To Maintain Ego Capacity in High Intensity Emergency Landing
Some other highlights of Coquelicot's educational background in addition to her five-year course of study in Bodynamic Analysis are:
•   Extensive study with Merete Brandtbjerg (co-creator of Bodynamic Analysis) in her system of Resource Oriented Skill Training.
•   Training with Peter Levine, Ph.D. in Somatic Experiencing as well as with Kathy Kain in Somatic Experiencing Bodywork.
•   Brain Gym® Practitioner, Minister with the AIWP, Birth and Early Parenting Educator, and a trained massage therapist.
Coquelicot brings finely tuned awareness and sensitivity to her sessions. I am amazed at her ability to track the process in her client's systems both in person and over the phone. Her presence is palpable. She has long-established practices in Berkeley and Grass Valley, California and provides counseling sessions by phone and in person for individuals, couples and families. Phone sessions can also be done with Video Skype for the additional benefit of visual connection. In addition to private sessions Coquelicot offers workshops to the public, as well as training and supervision for professionals seeking to deepen their somatic capacities and skills.
To schedule an appointment or consultation please phone: 530-575-8207 or email: [email protected]
For more information about Coquelicot's practice please visit her website: www.Body-Dynamics.net