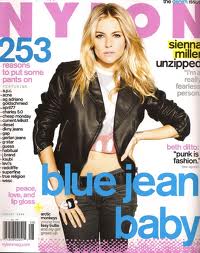 In the August 2009 issue of Nylon Magazine deputy editor Luke Crisell and beauty director Holly Siegel describe their experience receiving three Rolfing sessions from a Rolfing practitioner in New York City. Apparently Siegel suffers from a lower-back problem and Crisell wanted to go along for the entertainment factor. What they found out was that Rolfing really works!
Not only can Rolfing make you more flexible, alleviate stress, and increase energy levels, it can recalibrate your whole body. Show us a spa that (really, truly, actually) does that. . . . we immediately and surprisingly feel these benefits (we practically skip to the Oak Room afterwards), and after three visits, we are pretty certain an extended course of treatment would continue to yield positive results.
To read more of Crisell and Siegel's humerous account and why you might not want to wear your thong for a Rolfing session check out their story on page 109 of Nylon's August issue. Thanks for giving me something to smile about!
And now, The Minneapolis Star Tribune has a story about the University of Minnesota Gophers' Jeff Tow-Arnett. Tow-Arnett, a senior center for the Gophers football team, is happy to be back at training camp. Last season he injured his right knee, underwent surgery, and endured an infection at the surgical site. Tow-Arnett decided to try Rolfing as part of his rehabilitation and worked with the same husband and wife team who are known for their work with the Minnesota Vikings.
Just before camp started, Tow-Arnett underwent a Rolfing session, a technique of deep tissue massage. Tow-Arnett was worked on by a husband-and-wife team.

"Walking out of there I could feel a difference," he said. "It was unbelievable."
To learn more about how professional football players are using Rolfing to help them get ready for the game and heal from injury watch this segment from Vikings Game Day.
© Carole LaRochelle, 2009.